MY-20L laboratory jacketed glass reactor
Jackeded glass reactor is mainly used in pharmaceutical, chemical and biological experiment. It's a normal device for many university laboratory, chemical research department and so on. According to the actual needs of customers, our company has designed and produced jaceked glass reactor of 1L, 2L, 3L, 5L, 10L, 20L, 30L, 50L, 100L, 150L and 200L.They can be used in various low and high temperature reaction with realted high or low temperature devices.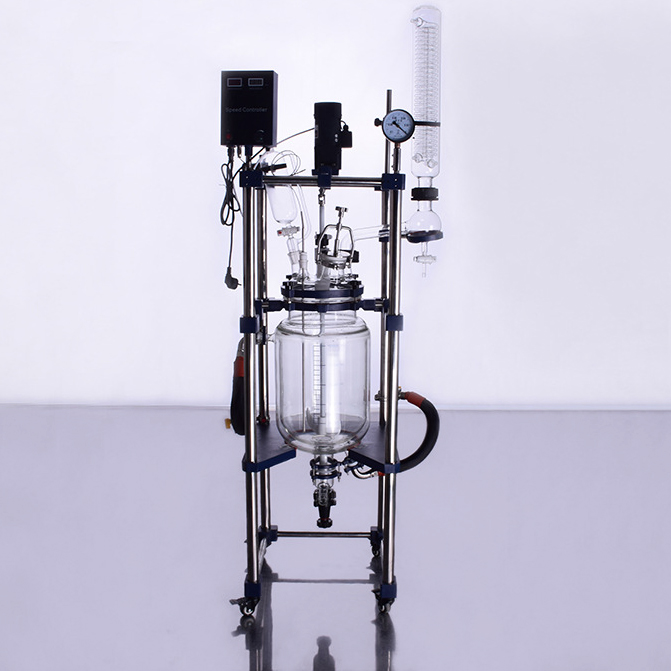 Technical data of MY-20L laboratory jacketed glass reactor
Product

MY-20L laboratory jacketed glass reactor

Basic

Parameters

Glass material
GG-17
Structure material
Stainless steel
Volume
20L
Jacketed volume
8L
Flanged out of the oil circulation port
Low into, up out dia35 flanged
Kettle lid bottle number
6
Ground clearance of the discharge opening
450mm
Reactor body temp.range
-80-250C
Vacuum
0.098Mpa
Stirring speed
0-450rpm
Stirring Shaft
15mm
Mixing Power
90W1/3
Voltage
220V/50Hz
Size
560*560*2100mm
Packing size
1480*660*810mm
G.W.
80Kg

Configuration

Function

Speed mode
Electronic step-less
Motor configuration
Low-energizing the motor, ratio 3: 1
Speed Display
LCD digital display
Temperature display
PT100 Sensor Digital Display
Sealing method
dia50 flange stirring port

Efficient vertical double re-flux condenser

100*670mm
Reflux (distillation) unit

Reflux elbow with discharge switch, 50 # of milling

Dropping device
1L 40# standard port
Pressure reducing device
34# standard port valve
Temperature tube
24# standard port
Solid addition

dia80 flanged cover with tetrafluoroethylene

Discharge mode

Ramp glass material discharge valve, dia 80 flanged

Vacuum Display
Vacuum Table
Stirring Connection
Universal joints
Stir bar

Description of stainless steel rods, outsourcing tetrafluoroethylene
Features of MY-20L laboratory jacketed glass reactor
1. The chemical glass reactor body is made of high borosilicate glass (GG-17 material).
2. The main body of this lab glass reactor is made of stainless steel frame and aluminum alloy
3. The stainless steel stir bar of this jacketed glass reactor is outlaid with tetrafluoroethylene, which is suitable for mixing various solvents.
4. This double jacket glass reactor has Ac motor stirring, smooth operation, large torque, no spark, long life.
5. This glass jacketed reactor has Teflon + mechanical seal, which has long service life.
6. Electronic non - polar speed control, speed digital display. The speed can be set by adjusting speed and twist.
7. The whole structure is compact and reasonable and easy to operate.
8. Non-dead Angle polytetrafluoroethylene inclined discharge valve, can effectively reduce the mixing dead Angle, easy to discharge.
9. This product is equipped with vacuum display function, for high boiling point materials can choose the best working vacuum degree.
10.Our factory makes all kinds of double - layer glass reaction kettle, also ccould make explosion - proof type machines.
MY-20L laboratory jacketed glass reactor
connected with other device